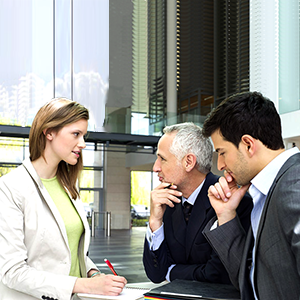 A few years ago one friend told me a story about the most bizarre job interview he had ever had. The HR manager told him, "Before we make you a job offer, there is one more formality – you need to take a polygraph test". To say that my friend was surprised would be an understatement. He passed the lie detector test, though it wasn't a very pleasant experience, and got that job.
Most employers don't go at such length to select an appropriate candidate. Still, during the interview, most reputable international companies will check English skills of foreign applicants. So, what can you expect?
1) Oral interview
Here the interviewer will check the fluency of your speech, your pronunciation, your vocabulary range and grammar level. You need to be prepared to talk about yourself, your experience, your qualifications and different work situations. You can read a bit more about the preparation for your English interview in the article Twelve Tips on How to Master a Job Interview in English. It may be really useful to take a few classes with an experienced interview coach, to train interview and learn what you did wrong.
2) A writing task
Most job interviewers will also try to check your English writing skills, especially if your job involves writing emails, reports and presentations in English. Very often, applicants have a different level for speaking and writing, for instance, the same person can possess B2 (upper-intermediate) speaking skills, but A2 (pre-intermediate) writing skills.
They can ask you to write a business letter, an essay or a summary of a report. It would be wise to get as many details as possible beforehand and prepare at home. If you have no clue how to write an essay, have a look at the article IELTS Essay Writing Tips. If you need some cliches for business letters, you can learn some from this .pdf file (see from page 2). Finally, have a look at a few good business letter samples to see the structure.
3) A translation task
I heard about several instances when my student was asked to make a translation of a contract or a business letter. The tricky thing was that they were not allowed to use any dictionaries, the Internet or other reference materials.
To be honest, such task presents a real challenge even for experienced translators. If I need to translate a document, I always use a dictionary to choose the best word or collocation. Still, if you hear that you will need to translate a contract, it would be wise to read several contracts closely and remember some phrases. Then you can practice at home, translating without any assistance, identify your weak spots, learn and try again.
The main secret to succeed in a job interview in English is to lay your worries aside and stay calm. The more focused you are, the better you will perform.