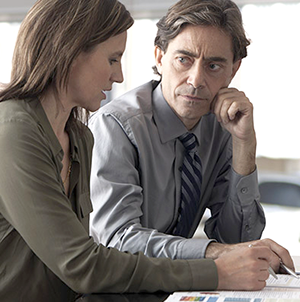 Most English learners can easily train Listening, Reading and even Writing themselves, but they find it difficult to speak. Only few people can hire an experienced IELTS tutor for every day practice, therefore, usually students either minimise their training or find a Skype partner with the same goals.
In most cases, I recommend my students to combine individual classes with their own practice. During the classes it is the job of the IELTS tutor to ask questions, monitor time and provide feedback. Self-study may seem more complicated, albeit extremely necessary.
One more excellent option is to take the IELTS online course. It will help you to practise and develop the skills and strategies you need to achieve the best possible score in the IELTS Speaking Test. You will know how to achieve fluency and coherence as well as how to develop your vocabulary and grammar range.
1) Check where you stand
Do at least one session (better two or three) with an experienced IELTS tutor to get a feel of the exam and to uncover your strengths and weaknesses. Ask the tutor to explain you in detail IELTS band descriptors and how you did according to each of them.
2) Compile practice topics
You will need about sixty practice cards for yourself. To do them, you can take advantage of Yasi, Simon's Blog and IELTS-blog with the recent topics. Ideally, each of your cards needs to include 6-7 questions for Part 1, a complete Part 2, and 7-8 questions for Part 3.
3) Use a stopwatch and recording tools
I use a stopwatch in my cell phone to control the time. You need to trace 15-20 seconds in Part 1, 2 minutes in Part 2 and about 45 seconds in Part 3. It may seem difficult to speak and control at the same time, so you can ask your speaking partner to check the time. Another possibility is to find a special hourglass for each section in a pharmacy
If you practice alone, you will also benefit from recording yourself. That way you will notice your mistakes and repetitions and will understand how to improve.
4) Listen carefully to the recording
Check, if you hesitate or repeat the vocabulary from the question. Are you satisfied with the flow of your speech? Spot your grammar mistakes. Analyse, if your lexis is varied. Do you use intonation and pronounce the individual sounds correctly?
5) Enhance your vocabulary
Prepare and learn nice collocations related to the topics. Study Speaking cohesive devices and fillers, learn, at least, a hundred idioms.
6) Revise grammar rules
When you notice grammar mistakes or hesitation how to say something correctly, you would rather revise these grammar topics. You can use several grammar textbooks, read the rules and do exercises. If you keep making mistakes, try oral drills.
7) Speak again
You can repeat the same topic, trying to use idioms, fillers and cohesive devices. Afterwards, you can compare your first recording and your second recording and check if there was an improvement.
Whether you prepare for IELTS yourself, with a Skype partner or with a tutor, it is advisable to practice Speaking as much as possible. Provided you practice speaking on two or three topics every day during two months, you will considerably improve your potential score.