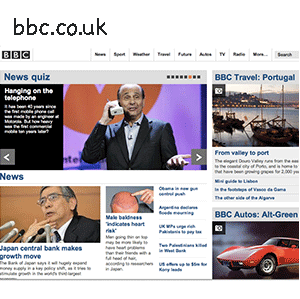 It's really important to read much information in English in order to develop your reading skills, vocabulary and general knowledge. You can add the following reading resources to your bookmarks and enjoy daily reading while you are having your morning coffee or tea.
 My rating of useful reading resources:
Wired.com is a daily technology news website with excellent scientific articles. They contain much interesting information that might help you to keep abreast of modern technology and follow the latest developments.
That's a collection of the most popular articles from different websites. Here you can find quickly something really interesting that you might have overlooked.
That's a reliable site to learn current news and read some articles about politics, health and technologies. That is definitely a great resource to develop your vocabulary, especially, collocations.
That's a marvellous resource for Business English. Its articles about all the aspects of business and entrepreneurship can develop your business English vocabulary and provide you with much useful advice on your career and personal development.
№5 http://theconversation.edu.au
The Conversation is an independent source of analysis, commentaries and news from the university and research sector. The resource can be useful to get information about current environmental, educational and technological concerns.
Another news resource. Reading it will help you to develop your vocabulary and to stay up-to-date on the latest news.
This website has a lot of  ideas and articles for entrepreneurs. It can develop your Business English vocabulary and equip you with practical skills in business environment.